08 Nov 2008
UrlScan 3.1: Wade Hilmo – Latest release has better protection for SQL Injection Attacks.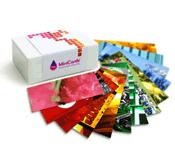 | | |
| --- | --- |
| [MOO.com | We love to print](http://www.moo.com/products/) – From business cards to sticker books these guys print it all. I particular like their mini-cards. 50 cards, full color, different design on every card, $20. I've seen others hand these out and they are very impressive. |
Featured Download: Live Mesh Adds Mac, Windows Mobile Clients – While this service is still an early beta it really does the job when it comes to synchronizing computers. Did I mention that it is free?
Live ID to support OpenID : Steve Smith's Blog -Last week Windows Live ID announced support for OpenID with the release of a Community Tech Preview (CTP) of their OpenID Provider. A growing number of sites have begun accepting OpenID as their means of authentication, and it's encouraging to see that Microsoft's Live ID will support this standard.
Toolmonger » Blog Archive » Router Table Free-Hand Guard - The free-hand guard allows you to route pieces up to 1-1/2″ thick while removing sawdust and chips. Now if only they had a magnetic one.
Mike Swanson's Blog : PDC2008 Sessions – While you can browse sessions by tag on the Channel 9 PDC2008 page, here's a simple list of all keynotes and sessions by code and title.
Jeff Prosise's Blog : Introducing the Silverlight Enigma Simulator - Enigma machines were used to encrypt Axis military communications in World War II. Very cool.
Scott Hanselman's Computer Zen - Tiny Victories Inside Microsoft - SmallestDotNet makes headway - Remember SmallestDotNet.com (blog post) from August? Well, that kicked off a number of discussions about how it was hard to find and install the .NET Framework. It was hard for end users and it was hard for developers to get it.
| | |
| --- | --- |
| [Michael Crichton, Dead at 66 | Popular Science](http://www.popsci.com/entertainment-amp-gaming/article/2008-11/michael-crichton-dead-66) – Best known as the author of such books like Jurassic Park and movies like Westworld, died last night from cancer at his home in Los Angeles. |
Walking House – Not sure I want to give up my house anytime soon for this one.
| | |
| --- | --- |
| [BubbleCaption: Add Speech Bubbles To Your Images. | MakeUseOf.com ](http://www.makeuseof.com/dir/bubblecaption-add-bubbles-images/)- Web based tool that lets you add speech bubbles and text to you images, simply upload your image from computer or web, drag and drop bubble shapes, text and clipart. |
| | |
| --- | --- |
| [AlwaysVPN | BETA](http://alwaysvpn.com/) – Here's to hoping it can punch through my company's firewall and give me remote access to my work computer (I miss Logmein.com, curse you IT). |
Internet Explorer to shift to Webkit? - Steve Ballmer has indicated that Microsoft might consider using Webkit, the open source rendering engine used by Apple Safari and Google Chrome, in future versions of Internet Explorer. Webkit rocks so this is really good news.
Windows 7: Windows 7 Will Ship Mid-2009 – Sounds like Microsoft is really hustling to get this one out for next year's holidays.
Why Do the Colorado Rockies Keep Their Baseballs in a Humidor? – File this one under truth is stranger than fiction.
| | |
| --- | --- |
| [Slashdot | Stretching Before Exercising Weakens Muscles – ](http://science.slashdot.org/article.pl?sid=08/11/07/1421242&from=rss)Ah! I knew it. I never liked stretching and now I've got an excuse (and am I'm sticking with it). |