08 Mar 2010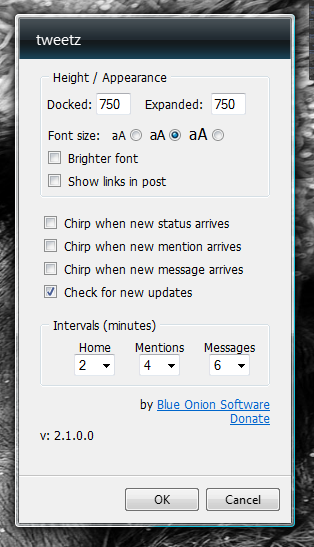 Now that the rewrite is done, I'm adding new stuff. It's much easier to do so with the new code structure. Here's what's new in this release.
No focus tool tips – hover over a link and you'll see the full link, or the the reverse lookup of the link if it can be found, regardless of whether the gadget has focus or not. I had to implement my own tooltips to do this. Hopefully, they're not too ugly.
Show links in post – By default, tweetz displays links as "[link]". Since most links are shortened, seeing the actual link text has little meaning. The "[link]" notation uses less screen real-estate. Still, some have asked to see the actual link in the post, so now there's an option to do just that.
Notification of new versions – A surprising number of you asked to have the program notify you when newer versions of tweetz are available. Personally, I've always found these reminders annoying but hey, it's a free country (or at least a free program). Checks for new versions are made every 24 hours if you choose to opt-in.
There have been lots of other requests for features. I've kind of lost track of them. If I've left your request out it's likely because I forgot, so don't hesitate to remind me.
Available on the downloads page.