24 Jan 2009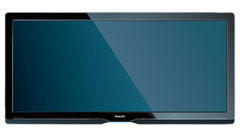 Open Wide. Now Wider… - Gadgetwise Blog - NYTimes.com – Phillips new 56-inch Cinema 21:9 TV, a 1080p LCD HDTV is a super-wide aspect ratio designed to exactly fit the dimensions of wide screen movies.
Wise Disk Cleaner 3 Free - Free software downloads and reviews - CNET Download.com – Picks off some files that CCleaner misses.
Formal Apology Form – Might be a good one to spring on the wife next time she's tiff'ed at you.
The Size of Internet to Double Every 5 Years - Based on data collected at six month intervals between December 2001 to December 2006, the researchers claim that the Internet doubles in size every 5.32 years
| | |
| --- | --- |
| [Two Very Useful Web Apps To Get The Most Out Of Netflix | MakeUseOf.com](http://www.makeuseof.com/tag/two-very-useful-web-apps-to-get-the-most-out-of-netflix/) – FeedFlix claims on spending 2.99 per movie which is above average (meaning I don't cycle through movies as fast as others). |
Surprise! Silverlight 3 sessions announced for MIX09 – I was mostly a forgone conclusion but now it's official.
| | |
| --- | --- |
| [5 Twitter improvements we're still waiting for | Webware – CNET](http://news.cnet.com/8301-17939_109-10145357-2.html?part=rss&subj=news&tag=2547-1_3-0-5) – Filters would be very nice indeed. |
Giz Explains: Why the Windows 7 Taskbar Beats Mac OS X's Dock - There's been a lot of talk about how the new Windows taskbar is a rip off of Mac's Dock. It isn't and here's why.
Microsoft Web Platform Installer v1.0 Released! - Get the Microsoft Web development stack here in one easy download.
Toolmonger » Blog Archive » Frog Tape – Using technology found in disposable diapers, this tape creates a barrier at the edge of the tape which prevents water-based paint from bleeding underneath.
List of unusual deaths – Some of these are way better than the Darwin Awards. It's surprising how many people died from too much laughter. I thought it was a joke but there is really a condition called Fatal Hilarity that can cause death.
| | |
| --- | --- |
| [nerdplusart.com | New Version of Kaxaml with Support for Silverlight 2 RTW](http://blog.nerdplusart.com/archives/new-version-of-kaxaml-with-support-for-silverlight-2-rtw) – Kaxaml is a great tool for editing and tweaking xaml in a visual environment. Not a complete or complicated as blend but way better than the Visual Studio editor. |