14 Jan 2007
[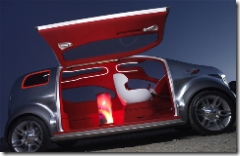 AutoblogGreen](/cdn/images/blog/WindowsLiveWriter/FordAirstreamconceptashinyhydrogenpowere_7D5E/fordairstreamconcept_05%5B2%5D.jpg) has an article on Ford's new concept vehicle. It wins my vote for one of the ugliest concept vehicles I've ever seen. One thing did catch my eye however.
If we had one of these things now, the first thing we're do is figure out is how to operate the passenger seat blogging tools. Yes, there is built-in blogging from the Airstream concept via a Sharp dual-view screen in the center of the instrument panel. Both the driver and front-seat occupant can also see views from the onboard camera.
Yep, blogging comes to driving. I can see it now: "Made what I would call the perfect right hand turn today at the corner of Elm and 5th. You had to be there to believe it"
Great image gallery and full specs are on the site as well.