19 Nov 2013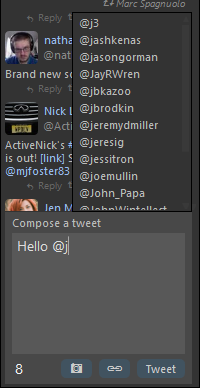 Been a good week development-wise. Here's what's new with Tweetz Desktop.
Type Ahead – Type @ and part of a screen name and a list of matching names is shown. Similar to what twitter does on their web site. Use your arrow keys to select, enter to commit. If only one name is present, enter will select and commit. I'm not convinced this feature is done yet but it's good enough to start testing.
Spell Check – Spell check your psts posts.
Follows You – Profile summary shows if you're being followed. I was disappointed to find out Bill Gates doesn't follow me.
UTF-8 Encoding – Should handle non-Latin characters sets in posts now.
Available on the downloads page.
Current version is 0.6.3.