26 Apr 2010
I'm reintroducing version 2.3. The last release was a bit under cooked. Apart from some minor layout tweaks, the only new feature is the ability to mark an entry.
The purpose of marking an entry is to act as a visual anchor. Mark the last read tweet and as new tweets come in you'll be able to tell where the new tweets start. You can only mark one tweet per timeline.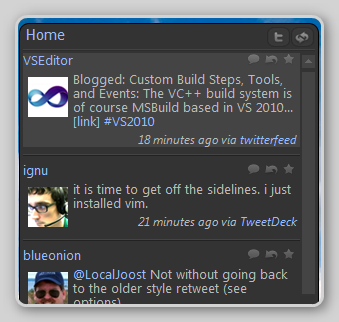 To mark an entry, Ctrl+Click the tweet. The tweet background is changed to indicate that it's marked. To unmark a tweet, use Alt+Click. No other behaviors are changed (I hope).
Available on the downloads page.