01 Mar 2010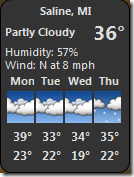 Simply Weather™, the best darn weather gadget for windows, has been updated to version 1.2.8. Based on user feedback, I've added the following:
The alerts notice overlays the humidity data instead of the wind data. Some users felt the humidity was less important than the wind data when displaying alerts.
Added a scroll region to the alerts fly-out dialog. Multiple notices would get cut off with no way to scroll down and see them.
And I think that's it. With so many projects going it gets a little difficult to keep track of things. Available on the downloads page.