16 Mar 2009
I've added another format that includes icons of the forecast conditions.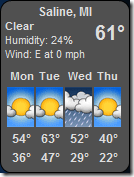 Simply Weather is a no-nonsense gadget that reports the current conditions and the 3 day forecast in one easy to read compact format. Actually, there are five formats so you can have it just the way you want it. Unlike other weather gadgets, there's no branding and you can even choose which weather site to go to when you double click it. No vendor lock-in like the Weather Channel and like gadgets. If you've ever had the feeling that weather gadgets are more about the gadget than the weather, then this gadget is for you.
Remember, you can change formats by holding the shift key and clicking on the gadget. The different formats are useful for displaying multiple locations. Here's how my sidebar currently looks.

Looks like Spring is on the way here in Michigan.