26 Oct 2008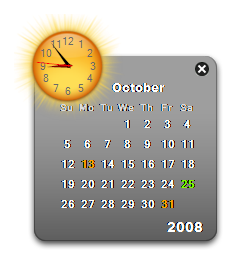 Calendar Gadget is an experiment in window-less controls I started back about 3 years ago. Things were humming along pretty nicely when I got distracted with this whole ASP.Net and blogging thing. I really didn't think it would be this long of a detour. Hey, it's not like I get paid to do this :)
I wasn't long after I got the hang of window-less controls that adding a designer became a priority. But hey, what to design? Not having a better idea I decided on Calendars (and clocks by extension). And so Calendar Gadget was born.
Like all of my programs, I focus hard on the deployment aspects. Easy installation and configuration has been a priority for me since way back in 2002 when I first started publishing freeware. Programs should just work and not require a degree in Computer Science to run. Perhaps that's why the Mac is doing so well.
As such, you'll notice that Calendar Gadget is one executable. The "Calendar Skin" .cgs files are a single file. It always bugged me that skinnable applications couldn't package their skins more compactly. Heck, a .zip archive would probably work. OK, maybe I'm a bit too obsessed with the easy deployment thing but I figure it has to beat the alterative.
All the skins are designed by me. I'm no artist and would never pretend otherwise. Hopefully, some of you more Photo Shop inclined folks will take pity on me and send some real artwork my way.
Please understand this is truly an alpha. I have not touched this code in any meaningful way for about 2 years now. While I plan to clean things up and finish the program, there are no guarantees. If you have an issue with Calendar Gadget please email me but also try to remember what you paid for the program before taking me to task.
The skin above is my current favorite. It's called "Black Glass". Enjoy.