22 Oct 2008
Calendar (not to be confused with Calendar Gadget) was one of the first .Net applications I wrote years ago. It started out as a C++ application named FreeCal and then later as a .Net 1.0 application. I've not touched the code for about 3 years. I still get inquires about it.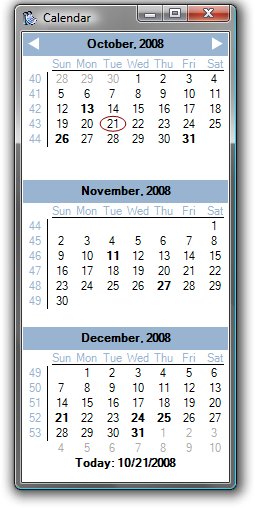 Calendar was born out my frustration of not having a calendar handy. Firing up Outlook or some other bulky application just didn't cut it. Often, I was only interested when the next holiday occurred.
Version 2.2.2 is mostly just a refresh of the code built under the new compiler and a few really annoying bug fixes. The "Border" bug is squashed and it now works on multi-monitor setups better. I've also updated the installer to include x64. The popular Quick Launch shortcut is also back in the installer. I'll update the product page in the next day or so with fresh screen shots. Enjoy!