22 Aug 2008
Track Your Twitter Popularity With TwitterCounter - Twitter equivalent of Feed Burner, automatically generating a counter for your site and giving you access to some fairly reasonable statistical data.
Screen2: Share Your Browser View - Web based screen sharing service that lets you share your browser view. The cool thing about this service that there is no installation required, all you need is a browser and internet connection.
Spectra Visual News Reader - Interesting idea for a newsreader. Very beta…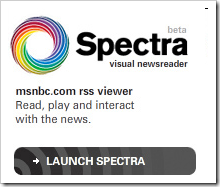 Clockwatcher Explains Phelps' Win : NPR - Visually, it looks like Phelps lost, but the clock doesn't lie.
Give PowerPoint Presentations with pptPlex and Impress Audience - This unique presentation style will leave any audience impressed and you can achieve it very easily with pptPlex, a free add-in for PowerPoint 2007 released at Office Labs.
Weekend Project: Drink Delicious Water with a Reverse Osmosis Filter - I put one of these in 10 years ago. It's easy and it really works. Once you start enjoying clean, fresh water, other water just doesn't seem the same.
Featured Windows Download: Executor Is Impressive, Full-Featured App Launcher - The reviews are very positive about this new launcher. I tried it and still like Launchy better. YMMV
Bubblewrap - Complete useless waste of time that I have a hard time resisting.
Best "Out of Office" Automatic Replies - Some of these are darn funny.
Change the default folder view in Vista - There are many things I like about Windows Vista. The OS's approach to folder views isn't one of them. This fixes the problem with a registry hack.
Duke Nukem Forever - Announcement that DNF is going to ship on XBox 360. Eleven years of vapor may finally come to an end. Come get some!
Featured Windows Download: QTAddressBar Brings Vista Explorer's Address Bar to XP - Vista's "bread crumbs" address bar rocks. Now you can have it on XP.
Global Internet Freedom Consortium - Programs to help you get around filtering proxies.
Visual Studio Tip: Split Views - The first is one that most developers will be aware of, but the second seems to be one that many do not seem to know about.
Lutz Roeder's Weblog: The Future of .NET Reflector - Lutz is turning development over to Red Gate Software. It was a good run…
Brad Abrams : CLR Updates in .NET Framework 3.5 SP1 - The CLR is the core of the .NET framework. This describes some of the significant improvements in the runtime. I've found the programs really do startup faster in 3.5 SP1.
Very Long-Term Backup - Interesting discussion on new technologies that store information for 1000's of years.
| | |
| --- | --- |
| [Google Trends : Buzz-Meter for Topics on the Web | MakeUseOf.com ](http://www.makeuseof.com/tag/google-trends/)- Let's you see what feeds you are really reading. Great for pruning the old blog role. |
Windows Vista Team Blog : Windows Vista: A better investment for your investments - Compelling argument (at least economically) as to why Vista is a better value.
| | |
| --- | --- |
| [Leave Repetitive Browser Tasks to iMacros | MakeUseOf.com](http://www.makeuseof.com/tag/leave-repetitive-browser-tasks-to-imacros/) - iMacros will save you some time by recording a group of routine tasks in Firefox and letting you repeat them whenever you want, with absolutely no programming required! |
Extend Your Screen with Microsoft Desktops - Free Virtual Desktop Manager for Windows - Desktops (v1.0) is a Virtual Desktop Manager that lets you create up to four different desktop screens for arranging all those open applications in a more logical and productive manner.
Newest Video Phones are Free - The latest video phones from ACN are simply awesome. And they're Free for a limited time. Access through our rep site at http//:mikejean.acnrep.com. This changes everything!