Mike-Ward.Net
Simply Weather
Simply Weather is, well, simply the weather. No garish ads or pop-ups. Neat, simple and to the point.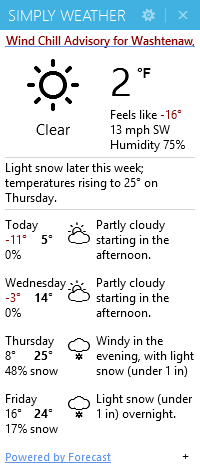 Features
Powered by Forecast.io - Forecast.io is backed by a wide range of data sources, which are aggregated together statistically to provide the most accurate forecast possible for a given location.
3 and 7 day forecasts
No advertisements
Extreme low and high temperatures shown in red
Configuration
When you first start Simply Weather, it displays a screen similar to the one below: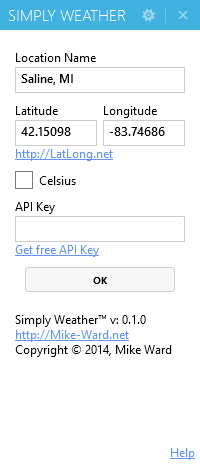 Location - This is displayed near the top of the application. It for display only.
Latitude, Longitude - Use your smart phone or other GPS enabled device to determine your current location. You can also use LatLong.net
Celsius - Displays temperatures as Celsius and wind speeds as kilometers per hour when checked
Api Key - Forecast.io generously allows access to their data for free. However, you'll need to sign-up and get a API key. Don't worry, they won't spam you. It's simply a mechanism to control access. Just click on the ""Get API Key"" link and follow the prompts.
ILoveFreeSoftware has a nice tutorial on how to setup Simply Weather.